On Tuesday, 19 July 2016, Latvijas Banka is issuing a 2 euro commemorative coin featuring a cow. The coin is legal tender in the Republic of Latvia and all the euro area countries. Like any other piece of circulation money, this coin will be released to special points of coin sale and other enterprises as well as will become available to the population via commercial banks.
The image of a cow, the symbol of the Latvian farming and countryside, once authored by Gunārs Lūsis (graphic design) and Jānis Strupulis (plaster model) and featured on the 2 lats circulation coin, has been restored to live again on the 2 euro commemorative coin. The new coins are struck by UAB Lietuvos monetų kalykla.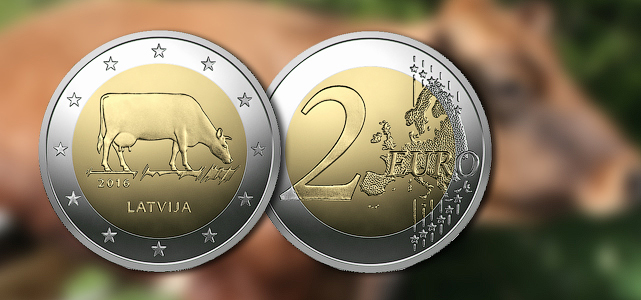 For long, cows have been important not only for the country's economy but also as an integral part of the countryside routine. The Latvian Brown, which is the main breed of dairy cows in Latvia, is a productive and resilient animal of relatively low maintenance and long life span, well-adapted to the local climate. The human eye is pleased to spot one when lazily browsing a field or rural scenery. The poet Imants Ziedonis who played an important role in formulating philosophical imaginary of the designs on the renewed lats banknotes and coins, has poetically represented the interrelation between the human and cow's life cycle:
And while a wee brown calf
trundles through a brown cow,
you too have time
to till the future now.
The coin will be available for exchange at the Cashier's Offices of Latvijas Banka in Riga and Liepāja as of Tuesday, 19 July. The issuing volume of the 2 euro commemorative coin "The Cow" is 1 million. The experience of Latvijas Banka shows that this volume is sufficient to meet the demand of all interested parties at least for several weeks (e.g. the 2 euro commemorative coin with the image of the stork is still available at Latvijas Banka Cashier's Offices). 10 000 Brilliant Uncirculated quality coins in special souvenir packing will also be on sale (7.30 euro each at Latvijas Banka Cashier's Offices). Likewise, special sets of the eight Latvian euro circulation coins and the commemorative coin "The Cow" in Brilliant Uncirculated quality will also be available (5 000 sets, 25.00 euro each at Latvijas Banka Cashier's Offices).
Numismatic products and commemorative coins in rolls (25 coins per roll) can also be reserved as of today, 18 July 2016, via the collector coin and other numismatic product online reservation service of Latvijas Banka under the Banknotes and Coins Section (https://rezervetmonetu.bank.lv) on Latvijas Banka website (www.bank.lv). The first and foremost advantage of the innovative service is the opportunity for clients to buy new collector coins and different numismatic products offered online by Latvijas Banka at the most convenient time for them and without waiting in lines. It is most likely to suit the needs of customers, e.g. from regions, who are busy on the initial days of launching a new coin or due to other reasons cannot visit the Cashier's Offices of Latvijas Banka.
Reservations can be placed for 1 000 Brilliant Uncirculated quality coins in special souvenir packing, 500 special sets of euro circulation coins, and 2 000 rolls of coins (or 50 000 coins) with the image of the cow.
The abovementioned products will be available also at such traditional points of sale as coin shops, book stores and souvenir and jewellery shops (https://monetas.bank.lv/images/stories/pielikumi/nauda/Monetu-tirdzniecibas-vietas.pdf). Collector coins and other numismatic products issued by Latvijas Banka are for sale also online from the JSC "Latvijas Pasts" (http://old.pasts.lv/lv/veikals/).
Latvijas Banka is carrying on the tradition of minting circulation coins of special design in Latvia. Each country in the euro area is entitled to issue two 2 euro commemorative coins of special design per year. Also, a third coin can be issued under a programme, if any, jointly organised by several euro area countries. This year, Latvijas Banka is planning to issue the 2 euro commemorative coin "Vidzeme" thereby launching a commemorative coin series celebrating the centenary of the State of Latvia.