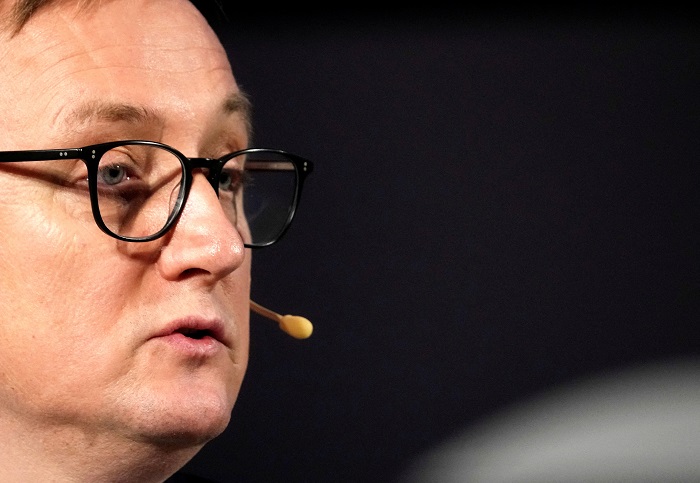 By Francesco Canepa
FRANKFURT, Jan 13 (Reuters) - European Central Bank policymaker Martins Kazaks is pushing back on investor bets that the ECB will cut interest rates by the end of this year, saying it would take a deep recession for borrowing costs to be lowered.
Money markets expect the ECB to raise the rate it pays on bank deposits by nearly 150 basis points by the summer before reversing course in late 2023 and next year, likely implying a downturn in growth and inflation.
But Kazaks told Reuters he failed to see a "rationale" for that and that rates should continue to rise to curb inflation, which is running at nearly five times the ECB's 2% target in the euro area.
"It would take a deep recession with a sizeable jump in unemployment for inflation to sink and thus push for rate cuts," the Latvian central bank governor said in an interview. "But that is not likely, given the current macro outlook."
Kazaks, generally seen as a policy hawk, added rates should rise "well into restrictive territory" - an ill-defined level that curbs economic growth and that most economists see as being above the current 2% rate.
Euro zone inflation tumbled to 9.2% last month, largely thanks to lower energy prices and a one-off subsidy in Germany, but underlying price pressures continued to rise.
Kazaks said core inflation, which excludes food and energy, was the measure to watch.
"It is possible for core inflation to continue trending up even as headline inflation is coming down, for instance, due to swings in energy prices," he said. "In my view, core inflation currently is a key gauge for inflation persistence and policy decisions."
He wouldn't be drawn on the level at which rates should peak.
"Uncertainty is too high, and we shall find it step-by-step," he said.
Finnish central bank chief Olli Rehn and Spain's Pablo Hernandez de Dos have also called on the ECB to raise rates "significantly" over its coming meetings.
But their Portuguese peer Mario Centeno has said the increases are approaching an end.
The ECB eased the pace of its interest rate hikes to 50 basis points from 75 last month but signalled more hikes of the same size ahead.
Since that meeting, speculation about a slowing in the pace of tightening has mounted as inflation slowed in the euro zone and the United States.