On Wednesday, 15 November, Latvijas Banka is issuing a gold collector coin "The Golden Horses" dedicated to the theme of the golden horse that is widely represented in mythology and literary works.
The collector coin will be available for purchase only on the website e-monetas.lv from 12.00 (noon) on 15 November. Mail delivery or personal pickup from Latvijas Banka Cashier's Offices at Bezdelīgu iela 3, Riga, will be possible. To smooth out the customer flow on the premises, the order pickup at Latvijas Banka Cashier's Offices will be organised according to a balanced schedule.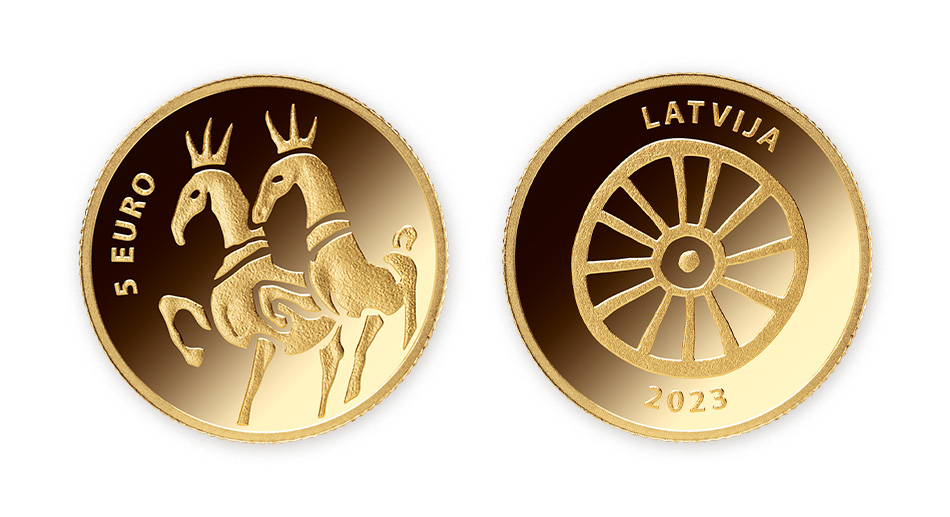 The graphic design of the coin was created by Ivars Heinrihsons whose creative work resonates deeply with the theme of the horse.
In the words of the artist, the coin's content is inspired by a popular Latvian folk song and the golden Latvian sea as well as by the ancient Greek myth of the horses pulling the chariot of Poseidon, the god of the sea. Both inspirations are brought together by the supernatural manifestation of radiance in the form of horses. Gold is linked associatively and visually to the sun, the "golden saddle" – to its radiance in the sea. For Latvians and their kindred peoples, the colour of gold is associated with divinity and celestial deities, most of all, the Sun as a deity.
The theme of the golden horse also plays a major role in Latvian literature. The impact of Rainis' play "The Golden Horse" extends far beyond the usual school curriculum as it is one of the most important works of Latvian literature.
The price of the coin is 125.00 euro; the purchase limit for one buyer will be 3 coins.
The mintage of the coin is 2500.
The coin has been struck by UAB Lietuvos monetų kalykla in Lithuania.