On Thursday, 7 November, Latvijas Banka is issuing a silver collector coin "Freedom Fights (1918–1920)" dedicated to the Latvian War of Independence and all those people who helped to win independence and hold freedom in high esteem.
The Republic of Latvia was born on the ruins of empires that had collapsed as a result of World War I. It took more than one and a half years for the people of Latvia to defend the newly acquired freedom and defeat external and internal enemies with weapons in hands. The military and political fight demonstrated the political maturity of the Latvian nation, its selflessness and the right to live in independent, democratic and free Latvia.
One of the most significant and complicated stages in the history of Latvia was the period between the proclamation of the Republic of Latvia on 18 November 1918 and the signing of the Peace Treaty with the Soviet Russia on 11 August 1920. It reflects the nature of the particular historical process in a concise manner, i.e. the Latvian people's fight for the existence and independence of their national state.
The graphic design and plaster model of the collector coin have been created by artist Andris Vārpa. A stylised march of fighters depicted in the Cubist manner and a soldier bidding farewell to his fiancée are featured on the obverse. The red-white-red flag of Latvia with broken entrenchment barriers on each of its sides is depicted on the reverse.
The coin has been struck by UAB Lietuvos monetų kalykla (Lithuania).
Price: EUR 50.
Maximum mintage: 4000 coins.
Purchase limit: 2 coins.
At this stage, only part of it has been minted, i.e. 3000 coins will be released on sale on 7 November.
Available for purchase as of 7 November starting from 8.30 a.m. (local time):
The building of Latvijas Banka in Riga will be open and the tickets from the queue regulator facility will be available from 7 a.m.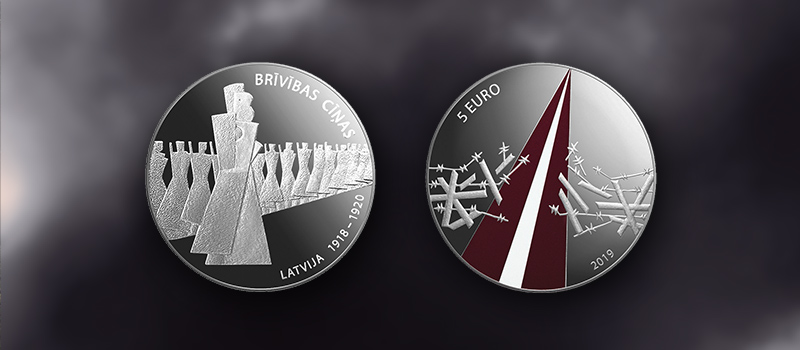 For additional information, please call + 371 67022722 or write an e-mail message to This email address is being protected from spambots. You need JavaScript enabled to view it..
Latvijas Banka's Collector Coins: Excellence in Minting, Pride in Presenting.