On Tuesday, 17 September, Latvijas Banka is issuing a 2 euro commemorative coin "The Rising Sun" dedicated to the history of the Coat of Arms of Latvia. At the same time, by this coin we shall also pay tribute to Ansis Cīrulis (1883–1942) artistic contribution that has been included in the Latvian Cultural Canon.
The motif of a rising sun was very popular at the time of the foundation of the Latvian state. The rising sun symbolised the new country. With the help of artist Ivars Drulle, the sun motif created by artist Ansis Cīrulis and emerging as one of the basic elements of the Coat of Arms of Latvia has reborn into the commemorative coin "The Rising Sun".
The graphic design and plaster model of the national side of the new commemorative coin has been created by artist Ivars Drulle, while the common side of the coin bearing the nominal value (artist Luc Luycx) is the same as that of other 2 euro circulation coins, including material and size.
The coins will be available for exchange starting from 8.30 a.m. on 17 September at the Cashier's Offices of Latvijas Banka in Riga and Liepāja. The mintage of the coin is 0.3 million pcs.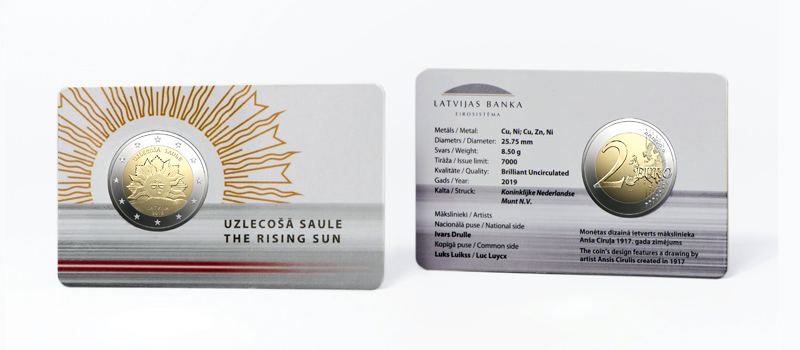 The (total) mintage of the 2 euro commemorative coin "The Rising Sun" in BU quality in a souvenir packing: 7 000 pcs.
The price of the coin: 7.90 euro.
Available for purchase as of 17 September starting from 8.30 a.m. (local time):
We would like to inform you that in the future, when making purchases via the sales platform e-monetas.lv, you will be sent a confirmation of the payment execution in a separate e-mail in addition to Latvijas Banka's e-mail letter. The payment processing will be ensured by UAB "Paysera LT " (the fees for handling the payment will be charged according to the method of payment selected by the buyer).
For additional information, please call + 371 67022722 or write an e-mail message to This email address is being protected from spambots. You need JavaScript enabled to view it..