Press Release of June 30, 2003

(Adobe PDF version)
In the first quarter of 2003, the current account deficit of the balance of payments rose to 74.0 million lats or 5.7% of GDP (35.9 million lats or 3.1% in the first quarter of 2002). The year-on-year growth of the current account deficit was mainly due to a rise in the goods deficit. Despite a slow economic growth in Latvia's major partner countries, exports of goods increased by 17.5%, testifying to stability of Latvia's competitiveness on external markets. Growing imports of capital goods and goods for intermediate consumption determined an increase in total imports of goods (21.5%). The services surplus did not change substantially, the income balance became negative, whereas the current transfers surplus grew considerably. Direct investment covered 92.5% of the current account deficit.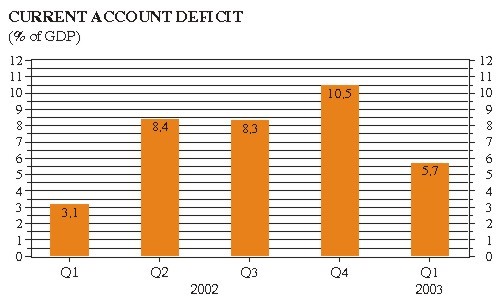 Regarding exports of goods, the largest year-on-year growth was registered in exports of goods that dominated Latvia's exports, i.e. wood and articles of wood, textiles and textile articles, and base metals and articles of base metals (18.6 million lats, 10.8 million lats and 15.5 million lats, respectively). Exports of goods with a larger value added increased. The growth in the volume of exports had a greater effect upon the expanding exports of goods than rising prices.
Major export partners of Latvia were Germany, Great Britain, Sweden, Lithuania and Denmark. Latvia' s exports to the EU countries grew by 22.2% in the first quarter, with the share of these countries in Latvia's total exports reaching 62.6% (60.7% in the corresponding period of the previous year).
The growing domestic demand and the rapid rise in exports caused a year-on-year increase in imports of goods. Imports of machinery and mechanical appliances, electrical equipment, base metals and articles of base metals, and transport vehicles continued to show an upward trend, whereas in line with a rise in the world prices for oil the largest growth in the first quarter (40.4 million lats) was registered for imports of mineral products. Imports of natural gas, diesel oil and electricity increased considerably.
In the face of unfavorable conditions for the development of Latvia's oil transit sector in the first quarter, the services surplus (93.6 million lats) did not change notably year-on-year (a decline of 1.7 million lats). With other transportation services developing successfully, the transportation services surplus grew. The other services surplus declined, whereas the travel services deficit increased.
Despite the decreasing volume of oil transit, transportation services surplus (97.7 million lats) recorded a year-on-year increase of 3.6 million lats, resulting from higher level of freight transportation services by sea, rail and road. Travel services deficit (17.1 million lats) grew by 1.7 million lats, while other services surplus (13.0 million lats) dropped by 3.6 million lats, since imports of other services increased more rapidly than their exports.
With increasing income from direct investment by non-residents, in the first quarter income balance posted weaker results than in the corresponding period of the previous year (by 7.3 million lats) and became negative (0.7 million lats). Nevertheless, most of the income from direct investment in equity by non-residents (86.5%) was reinvested in companies (in the form of foreign direct investment). Residents' income abroad increased as well: remuneration of residents employed abroad rose by 2.1 million lats, and residents' income from investment grew by 3.7 million lats.
Current transfers surplus (54.0 million lats) increased by 21.7 million lats year-on-year, mostly resulting from a rise in the volume of current transfers received by private persons.
In the first quarter, the capital and financial account posted a surplus of 60.6 million lats. Capital inflow in Latvia resulted from direct investment, while other items of the financial account recorded a negative balance (except for the reserve assets).
The level of direct investment surplus (68.5 million lats) was quite high and equal to that of the first quarter of the previous year. The amount of direct investment in Latvia reached 72.6 million lats, with 46.7 million lats or 64.3% invested in companies' equity and as reinvested earnings.
Portfolio investment recorded a net outflow of 38.9 million lats, resulting mostly from the investment in debt securities by Latvian banks.
In the first quarter, a net outflow (54.3 million lats) was reported also in other investment. An increase of 27.4 million lats in other investment assets was mostly determined by a higher level of trade credit granted by companies, while other investment liabilities shrank by 26.9 million lats due to a decrease in liabilities in all sectors.
With the Bank of Latvia for the most part meeting its contractual liabilities under currency swap arrangements, reserve assets decreased by 89.3 million lats in the first quarter.
Latvia's Balance of Payments
(in thousands of lats)
Item

2002

2003

I

II

III

IV

I

CURRENT ACCOUNT

-35948

-107277

-109634

-150262

-73968

Goods

-170130

-215409

-219908

-282985

-220857

Credit (exports)

348183

403748

418077

418224

409052

Debit (imports)

-518313

-619157

-637985

-701210

-629909

Services

95335

95547

71170

75304

93625

Credit (exports)

185148

204199

197615

186279

204408

Debit (imports)

-89813

-108652

-126445

-110975

-110783

Income

6536

-21800

-11562

15038

-731

Credit

43219

42367

42529

50087

48999

Debit

-36682

-64167

-54091

-35049

-49730

Current transfers

32311

34386

50666

42382

53995

Credit

64510

71187

95173

99826

96414

Debit

-32199

-36800

-44507

-57444

-42419

CAPITAL ACCOUNT

3676

2492

2221

2602

1232

Credit

4382

3412

3878

3527

1914

Debit

-706

-920

-1657

-926

-681

FINANCIAL ACCOUNT

45723

91868

126560

168138

59414

Direct investments

68689

81242

60849

29660

68451

Abroad

359

-2821

364

-3249

-4184

in Latvia

68331

84063

60486

32908

72635

Portfolio investment

-30708

-64387

-19968

-28238

-38914

Assets (investment in foreign securities)

-30457

-64446

-14500

-27919

-41850

Equity securities

-13136

879

1061

9472

675

Debt securities

-17321

-65325

-15561

-37390

-42525

Bonds and notes

-26602

-75851

-25953

-37839

-41647

Money market instruments

9282

10527

10392

448

-878

Liabilities (foreign investment in Latvian securities)

-251

59

-5468

-319

2936

Equity securities

20451

8129

-13745

-74

979

Debt securities

-20702

-8070

8278

-245

1958

Bonds and notes

-19937

-8037

8278

-246

2241

Money market instruments

-766

-33

0

1

-284

Financial derivatives

-447

5017

2065

1346

-5090

Assets

-2607

-6559

6739

-2122

-1946

Monetary authorities

799

-4689

4372

-2207

-1908

General government

0

0

0

0

0

Banks

-2767

-1870

2367

93

-463

Other sectors

-639

0

0

-8

425

Liabilities

2160

11576

-4674

3468

-3144

Monetary authorities

-1338

3139

-3270

2328

-2973

General government

0

0

0

0

0

Banks

2269

8437

-2169

1027

-157

Other sectors

1229

0

765

113

-14

Other investment

-346

37649

125787

163099

-54332

Assets (Latvia's loans to foreign countries etc.)

-111902

-17666

-4458

-164938

-27402

Monetary authorities

8

110

45

-283

61

General government

1854

1208

902

-12

-724

Banks

-87935

-34665

8645

-181492

-2777

Other sectors

-25829

15681

-14051

16848

-23963

Liabilities (foreign loans to Latvia etc.)

111556

55315

130245

328038

-26930

Monetary authorities

4878

-5594

-4200

-1941

-1663

General government

-944

-1271

121

186

-10348

Banks

120540

50039

122228

308314

-5408

Other sectors

-12919

12141

12096

21479

-9511

RESERVE ASSETS

8535

32347

-42173

2271

89298

Net errors and omissions

-13451

12917

-19147

-20478

13322