We meet at the end of the year when we traditionally look back at the passing year and outline challenges for the coming years.
Developments in Latvia's domestic policy have temporarily hindered the formation of the government and the establishment of a stable coalition. We also continue to face global risks, Brexit, developments in Italy and geopolitical turmoil.
Therefore, I will address three issues at today's press conference:
developments in the euro area economy and yesterday's decisions taken by the Governing Council of the ECB;
development of the Latvian economy and growth forecasts;
as well as the major challenges in the next few years.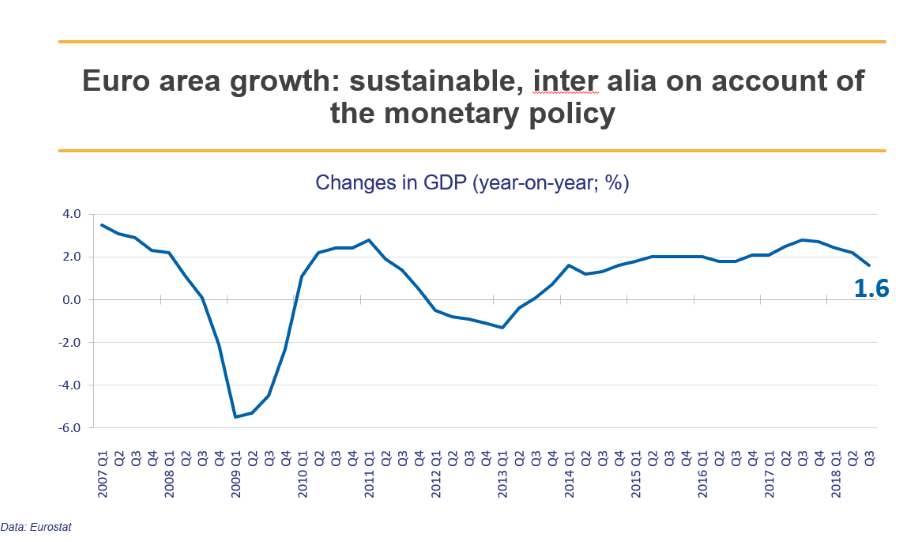 Overall, this year has been good for the economy of the euro area and Latvia. The euro area economy has already been recording growth rates of about 2% and more for four consecutive years. Such a sustainable growth rate is a major success. This has also, to a large extent, been driven by the Eurosystem's accommodative monetary policy measures. The low interest rates made it possible to increase and accelerate lending which, in turn, contributed to investment growth. It should also be mentioned that a rise in employment and wages has been quite fast. This shows that the economy is still in the expansion phase.
From an economic cycle perspective, this year together with previous years will undoubtedly enter the European history as the good years.
However, as we are all aware, the good years come to an end sooner or later. According to the latest forecasts published yesterday, the euro area economic growth will also decline as of the next year, and it will descend below 2% over the next three years. Moreover, the current forecasts, compared with the assessment carried out in September 2018, have been slightly revised downwards.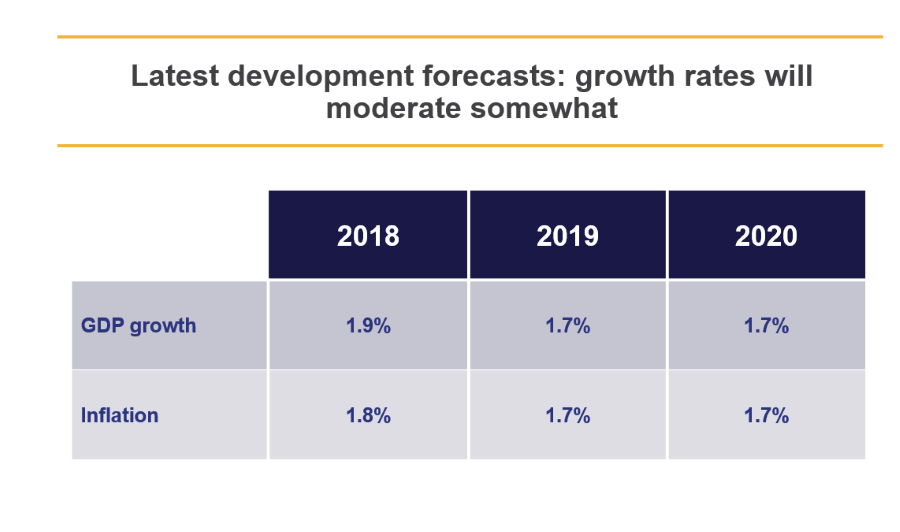 Why? This is due to a number of reasons:
first, it is expected that the favourable effect from the external environment on exports will abate due to decelerating global growth rates;
second, it is expected that the coming years will no longer see so rapid employment growth as the actual employment rate has reached its natural level in certain countries, e.g. in Germany;
third, growing uncertainty related to various external and internal risks has led and may lead to a further increase in long-term securities rates and a desire to build up additional security provisions in individual euro area countries.
It is worrying that economic growth rates are declining and unemployment, despite its substantial contraction over the past years, remains relatively high in the euro area as a whole, i.e. above 8% and in some countries (Italy, Spain, Greece) even 10% and higher. Countries and economic policy actors have a great deal of effort to make to put this resource, this potential possessed by the country, in action.
With the current unemployment rate of 7%, which is relatively low compared to that seen in the history of Latvia, a great deal remains to be done to use all available labour reserves efficiently.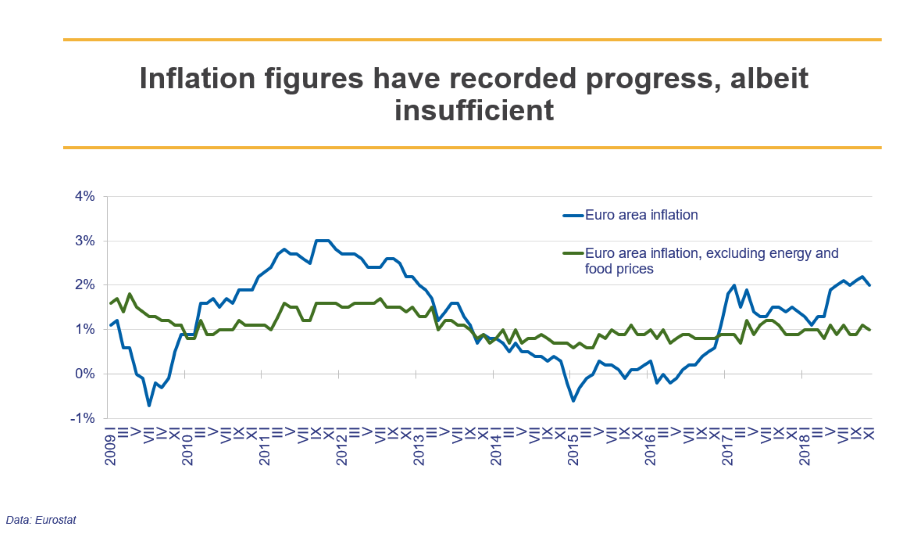 Inflation figures have recorded progress. Headline inflation of the euro area is close to 2%. But, looking at the underlying inflation or inflation, excluding energy and food prices, we can see that it is quite sustained close to 1%.
It is the growing private consumption, which reflects a rise in employment and wages, that has contributed to further increase in headline inflation. Of course, the major factor was the mounting oil prices witnessed over the past months. However, due to larger volumes of supply, oil prices have been plunging since October.
What are the obstacles preventing inflation, also the underlying inflation, from more dynamic development and from reaching a higher level? Debt levels of a number of countries are high. The debt level of the countries experiencing relatively low growth (compared to the average level) is very high. Should the fiscal policy become more expansive, that would be reflected in mounting interest rates, which, in turn, would reduce the positive effect. Meanwhile, the implementation of a more stringent policy supporting the reduction of the debt itself, which would be quite a positive development in these circumstances, would, in turn, weaken the economic growth. Consequently, we have counterveiling effects, and in the case of a high level of debt, it is impossible to stimulate economic growth in this way.
The issue of how to stimulate the economy in more difficult times should be considered very timely.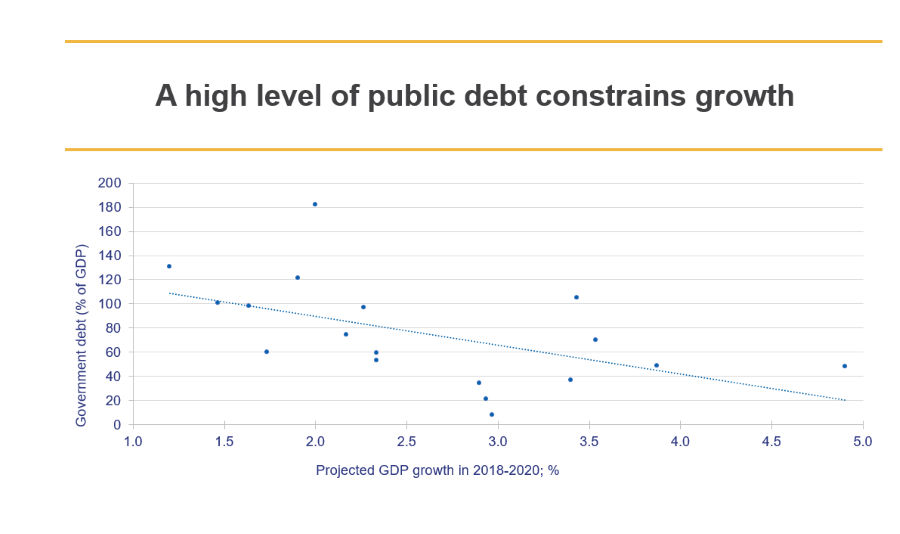 There is a Latvian saying "Make your sledge in summer". If it is not done during the economic expansion phase, it is impossible to help the economy when it starts to moderate. Cycles have a significant impact on income, and just like not spending everything within one day, it is necessary to think about the reserves to be used in the economy in a timely manner.
Monetary policy is still the most effective instrument of economic stimulation. A meeting was held in Frankfurt yesterday, after which ECB President Mario Draghi stated at a press conference that the Governing Council of the ECB had decided to keep the key interest rates unchanged until the late summer of 2019, reconfirming the earlier decision made in Riga.
He also confirmed that in the light of the previous decision, net purchases under the expanded asset purchase programme (APP) will be discontinued as of January 2019.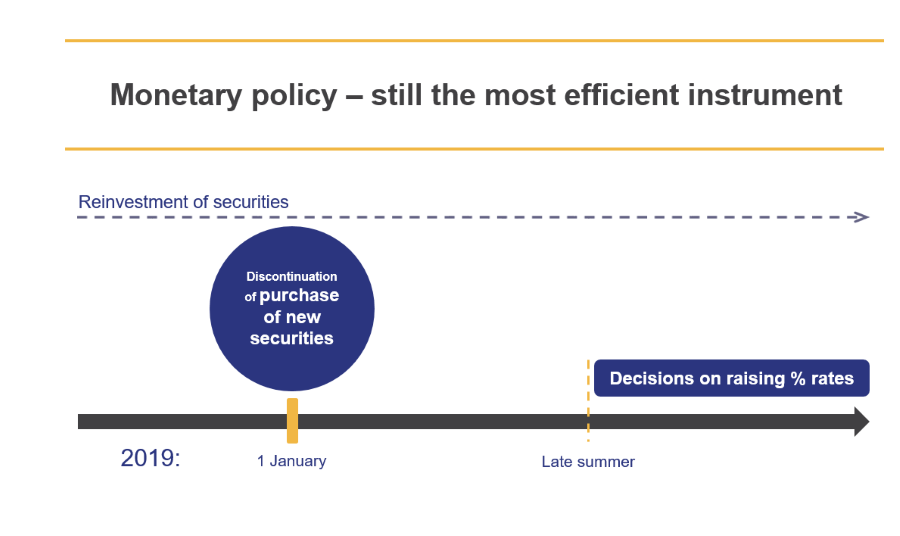 As it was already highlighted by the ECB President yesterday, the Eurosystem's accommodative monetary policy will remain strongly expansionary. It will be ensured by reinvesting the principal payments from maturing securities purchased under the expanded APP.
The new wording, stating that reinvesting will continue past the date when interest rate raises are started, creates flexibility in policy decision-making, depending on how the euro area economy will develop, and, on the other hand, also ensures that monetary stimuli will remain and the necessary liquidity will be maintained in the economic system in order to sustain growth.
These are also good times for Latvia. Latvia's economy has grown at a more rapid pace than in other euro area countries this year. The results posted by the third quarter were unexpectedly positive. In Latvia, like elsewhere in the euro area, they were affected by both one-off factors and overall economic progress, and the third quarter saw very buoyant growth also in Latvia.
The main driving force is private consumption dynamics as well as investment. This trend will remain unchanged in the future. Growth will be rapid although its pace will decelerate somewhat. Risks, like in the euro area, remain balanced, but growing uncertainty slightly reduces future development trends.
It was the services sectors that ensured the fast growth in the third quarter. For example, the information and communication technologies sector continued to grow very rapidly, expansion of the transport sector was driven mainly by one-off factors, i.e. the turnover at ports and in rail transport increased due to infrastructure repairs in Russia. Development in the real estate and financial services sector fluctuated and this situation will persist for some time. The financial sector has been subject to significant changes, and growth indicators will reflect a search for business models by some banks. Development of several sectors, i.e. construction, manufacturing and trade has slowed down.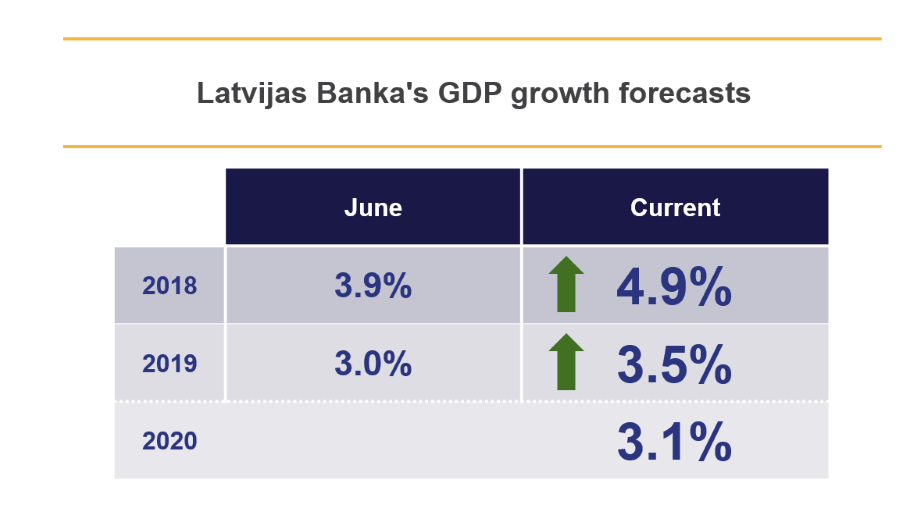 In comparison with the June forecast, Latvijas Banka's GDP growth forecast for 2018 has been revised upwards from 3.9% to 4.9% in adjusted terms and from 3.9% to 4.7% in non-adjusted terms. GDP growth forecast for 2019 has been revised upwards from 3.0% to 3.5% in adjusted terms and from 3.0% to 3.6% in non-adjusted terms. According to our expectations, in 2020 GDP growth will amount to 3.1% in adjusted terms and to 3.5% in non-adjusted terms. Private consumption, investment and, to a lesser extent, exports will remain the drivers of growth, yet the latter is already decelerating significantly.
A long-term challenge on the supply side is the tightening labour market, as businesses report shortages of qualified labour force, as well as the low level of investment. Despite positive growth, the level of investment remains insufficient. A functional government with a clear vision as to its main future policy directions is quite a decisive factor when investors decide on investing in any country; therefore, we do hope that the government formation process will result in a government having clearly defined priorities for the upcoming years and implementing respective policies.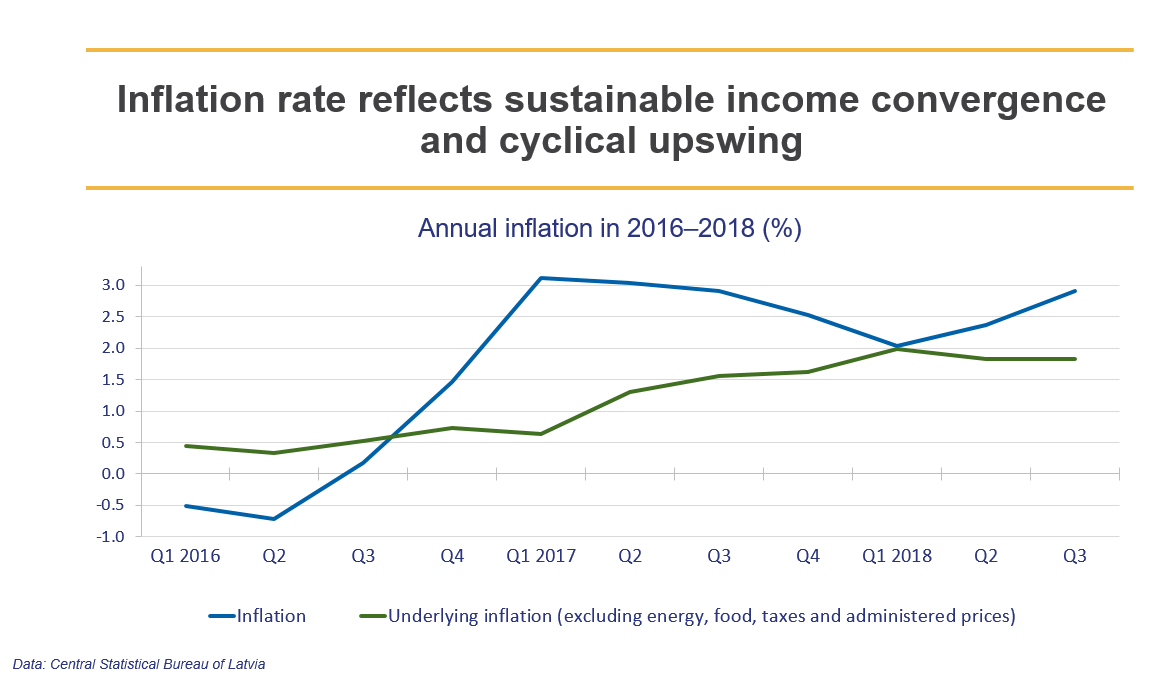 Inflation rate reflects sustainable income convergence. We are happy that the wages are rising steadily, yet this can be beneficial to the economy only if the rise is matched by productivity growth. At the moment, productivity is slightly lagging behind. We do not seen any signs of overheating, like the ones observed before the crisis, at the current stage of development. The rising income is also reflecting the upswing of the cycle, so the annual inflation has been hovering around 3% most recently. The path of core inflation is more stable, and the relationship between the pressure from wages and costs and transmission to prices has weakened. This is characteristic of the euro area as a whole and also of Latvia in particular. One of the most recent factors contributing to inflation is oil price developments.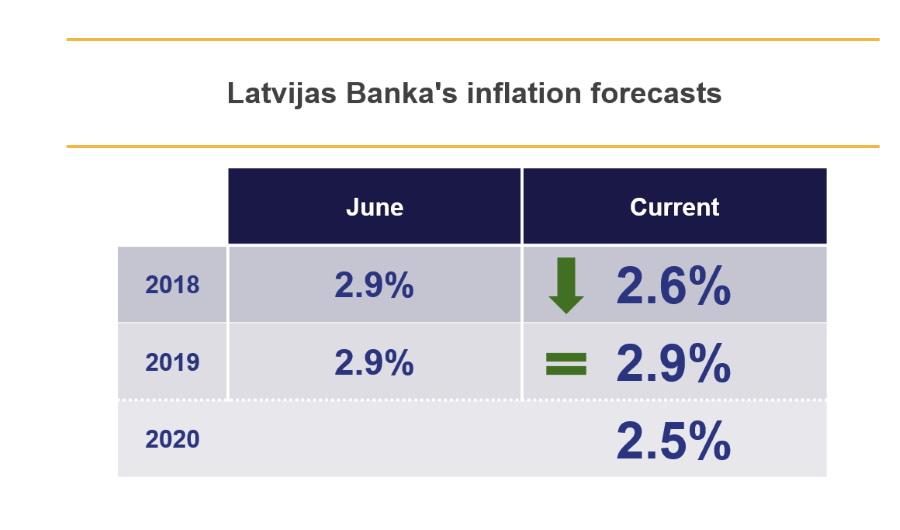 In comparison with the previous forecast, inflation forecast for 2018 has been revised downwards from 2.9% to 2.6%, the forecast for 2019 remains unchanged at 2.9%, reflecting the cost pressure on prices, whereas that for 2020 is set at 2.5%.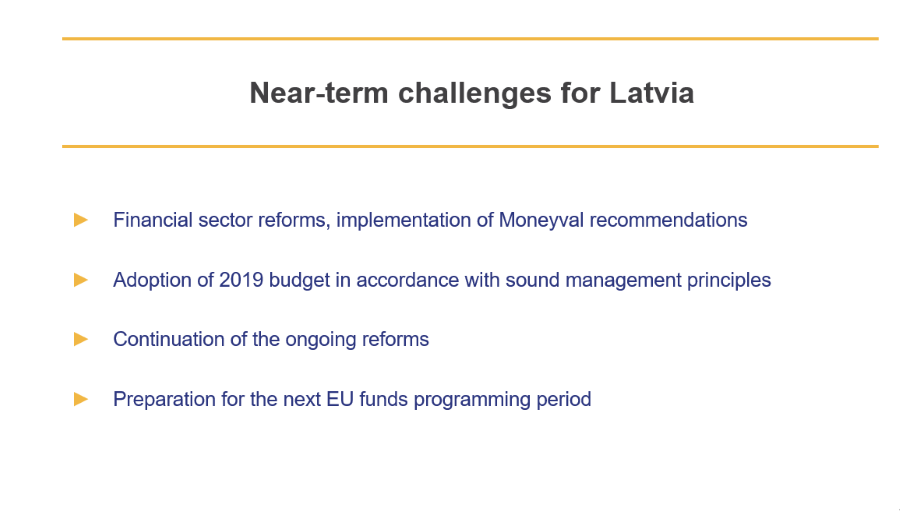 This is the positive news. Let's look at the challenges to be faced by Latvia in the near term. This is more relevant than in the previous years, considering the domestic political developments and the complicated future coalition and government formation process.
A very important question is whether Latvia will or will not be placed on the so-called 'grey list'. This is becoming increasingly important and is related to the future government formation process, as the time left for Latvia to implement Moneyval recommendations is running short.
Why do we talk about it that often? If Latvia is placed on this 'grey list', this will affect both Latvia's sovereign credit rating as well as the ratings of its financial institutions, which means that the costs of borrowing will increase. This will have an immediate effect on other prices as well.
Potential consequences could be:
higher costs of financing available to Latvia's businesses and the economy;
delays in executing international payments, as banks and controlling authorities of other countries would screen payments from Latvia with particular care, because all counterparties would be more careful when evaluating their business deals: all this consumes more time and, as we know, time is money. This would also have an adverse effect on export and import operations of Latvia's businesses;
as well as deterioration of the investment environment.
As a result, Latvia's economic growth would also decelerate.
I think that Latvia has accomplished a lot in this area in the most recent years, in order to improve business environment, to encourage start-ups, to ensure the availability of financing at fair prices. To be placed on the 'grey list' would mean taking a step back, and Latvia does not deserve this.
The government and the Parliament still have a lot of work to do in this area. What we expect is for the government and the Parliament, when formulating the next year's budget, to pay enough attention to improvement of legislation as well as to providing the required resources to the Financial Intelligence Unit (FIU) Latvia, State Revenue Service, strengthening the law enforcement authorities, so that we can see Latvia as a country where business is sound, effective and innovative.
We all know that we are starting next year with a temporary budget. The 2019 budget could not be adopted in due time in the absence of a new government and the process could drag on even for several more months.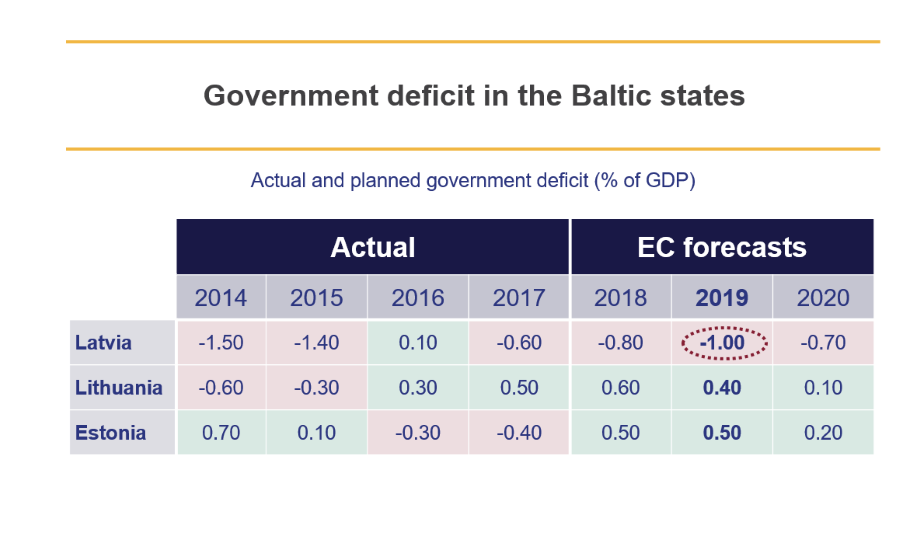 In budgetary policy, the most important thing is to think in a long-term perspective rather than just one year ahead. Why is it so important? Because in the context of any country's growth it is of an utmost importance that everybody, be it the public or the private sector, can see this perspective, see what the priorities are, how they will be implemented and with what resources. Spending from the budget should be planned accordingly, allocating financing to various long-term objectives.
Any country can borrow in the short term, but those resources will only last for a short time. You cannot increase pensions by merely borrowing the money.
Moreover, each country has as much money as it has, and it is a very hard political decision to choose which priorities should be supported over the next period. It is important to realise that if you change the priorities or plan to increase spending, then you have two options: either to cut spending on other measures or find additional revenues. One should not forget, of course, that all sectors should work effectively. There is no other way.
Why is it so important for Latvia? We compare ourselves to the other Baltic states very often. First of all, simply because our economic development is quite similar, we all began this transition from a planned to a market economy and are still on our journey together.
If we look at this table, we can see that Latvia had a minor budget surplus only one year. Lithuania and Estonia have proved themselves to be more far-sighted: in the period from 2014 to 2020 both have had a deficit only twice. This means that in otherwise similar economic conditions Latvia is at the moment following a completely opposite approach to budget formulation than that pursued by the other two Baltic states. It would be wise to save for a rainy day. Then if that rainy day should come, you would have a safety net and a possibility to achieve higher growth. I believe we do not want to be the weak link of the chain. The currently implemented policy is a procyclical one, but it should be the other way round: accumulate savings in good times so that you have resources to spend in bad times.
This is important also considering that the EU funds programming period is approaching its end and it is very likely that funding will be cut after 2020. Therefore, it is important to prepare a National Development Plan that would enable effective targeting of the EU financing on strengthening Latvia's competitiveness.
Latvijas Banka has already stressed it before and will continue to remind that human resources are the key to Latvia's competitiveness. Investment in education and innovations has an important role to play in modernisation of the economy and strengthening the potential of Latvia's businesses. That is the only way for Latvia to catch up with the leading European economies in its second centenary and lay a sustainable foundation for the country's future.