We are meeting one week after the beginning of the new school year, so I would like to wish us all a year full of new knowledge. This is very stressful time. We have the drafting of the budget for 2018 ahead of us, and it will determine to a great degree our development in the coming years. Worry is being voiced ever more often that the Latvian economy is in danger of overheating. We will address all these questions today.
I will begin with a brief overview about the trends in the euro area economy.
In the second quarter of this year, euro area economic growth continued and consolidated. Real GDP grew 0.6% quarter-on-quarter and 2.2% year-on-year.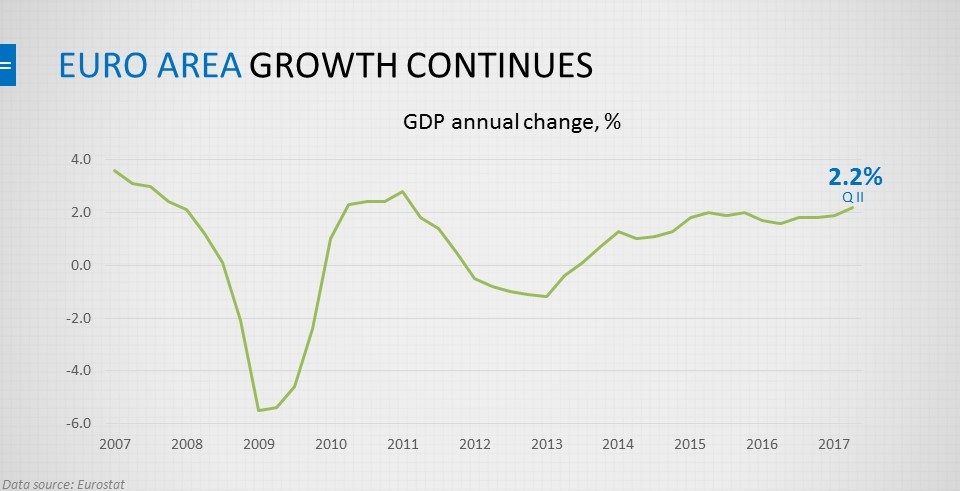 In the first half of the year growth in the euro area was fostered by a growing domestic demand. The improvement in the conditions of the euro area labour market raises household incomes and consumption and the rise in entrepreneur and consumer confidence invites hope for further growth in the near future. The improvement in the external environment will also find reflection in growing trade and exports.
The euro area inflation remains under the target level, although the latest Eurostat flash estimate indicates that the annual rate of growth of euro area inflation has risen to 1.5%.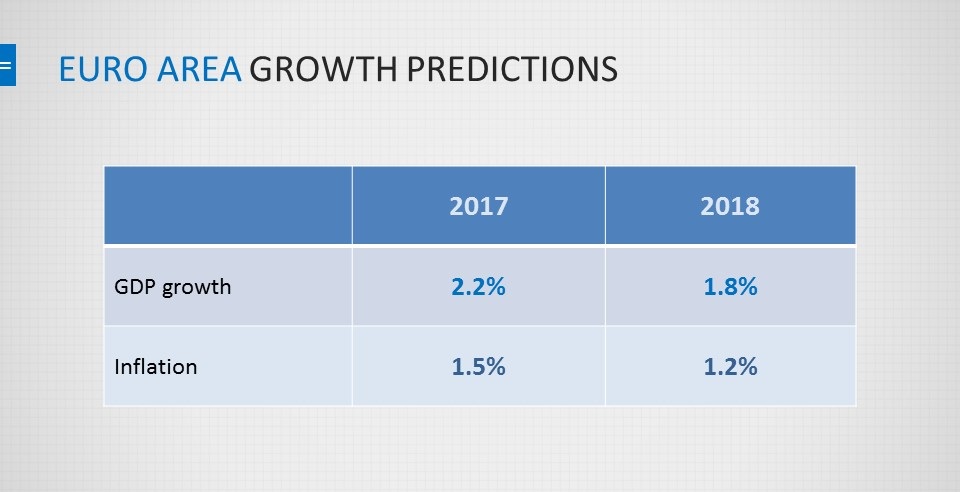 Yesterday, 7 September, the Eurosystem published its latest predictions for euro area economic growth. They indicate that this year the euro area GDP will grow by 2.2%, which is a substantially better indicator than forecast before (1.8%). GDP predictions for the coming years remain unchanged.
According to September predictions, the euro area average inflation will be 1.5% this year and 1.2% in 2018. This trend will mostly be determined by global base effect of energy resource price changes. The updated inflation predictions for the next two years have been diminished slightly (by 0.1 percentage points) – primarily as a result of a stronger euro exchange rate.
As far as monetary policy decisions are concerned, the ECB Council at its yesterday meeting resolved not to change the euro interest rates. The indication for future prospects also remained unchanged and it was emphasized that the current stimulating monetary policy approach is supported by economic developments and is necessary in order to achieve sustained progress on the path to achieving inflation target, which is close, but under 2% in the medium term. The main euro interest rates still remain record low and the asset purchase programme in the amount of 60 billion euro a month will be continued until 1 January. Subsequent decisions will mostly be made at the regular meeting of ECB Council at the end of October.
And now I will turn to the Latvian economy.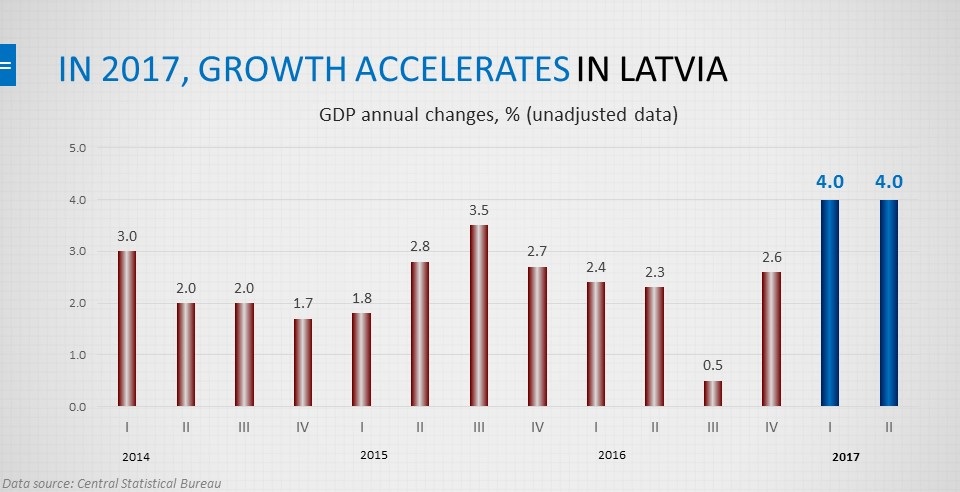 After the very weak growth in 2016, the Latvian economy is growing fast. One of the decisive factors is the recovery of the external markets and the resulting growth in manufacturing.
Another important factor was growing activity both in private investment and in the uptake of EU funds. Last year, these inflows of money were delayed, which was mentioned as the main impediment for growth. The recovery of investment ensures notable growth in construction and in such related industries as mining and quarrying and the production of construction materials and metal products.
Finally, GDP growth was fostered also by a substantial increase in state administration expenditure for labour compensation and purchases of goods and services.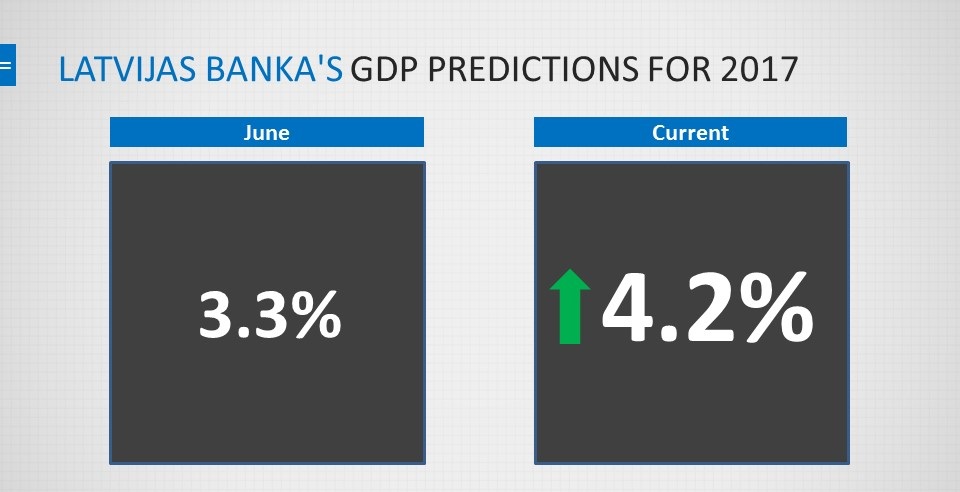 As far as gross domestic product is concerned – in view of the observed substantially faster growth in the first half of the year, further growth in construction, and a faster rise in private consumption fuelled by dropping unemployment and rising salaries, Latvijas Banka has raised its GDP prediction. According to unadjusted data, GDP could increase by 4.2% in 2017 (previous prediction: 3.3%). In 2018, its growth rate could reach 3.8% (previous prediction: 3.4%).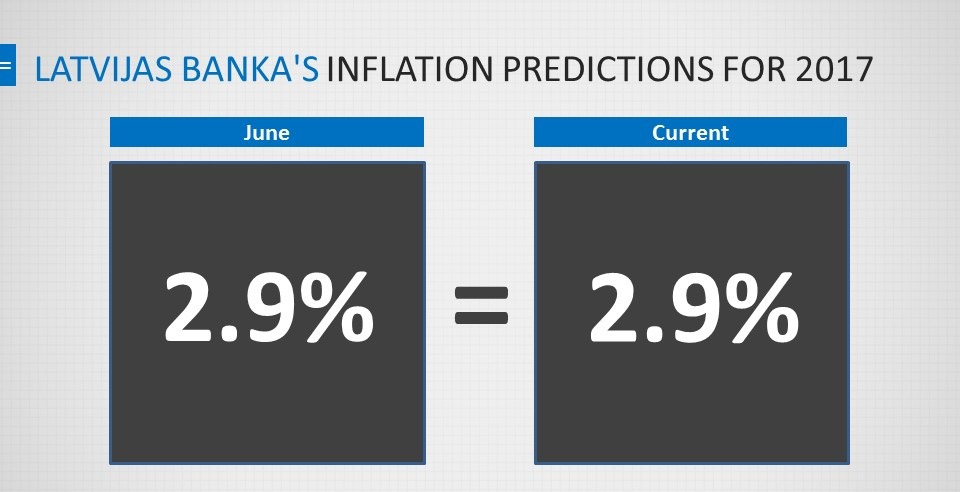 The inflation forecast for this year remains unchanged at 2.9%. As expected, the impact of domestic demand on inflation is increasing gradually. Even though the prices of oil rose to slightly above 50 US dollars per barrel, it was compensated by the weakening of the US dollar against the euro.
Next year, inflation could remain at this year's level; we predict it at 2.8%.
Even though Latvian economic growth is laudable, there are several signs that have made economists, and not only them, to begin a discussion whether or not risks of overheating are currently present in Latvia. In view of this, I have chosen to present a slightly more complicated picture of the situation, showing the difference between the situation in 2004, followed by 2005, 2006 and 2007, and the situation today. And to show how the graphic representation of supply and demand moves depending on economic growth.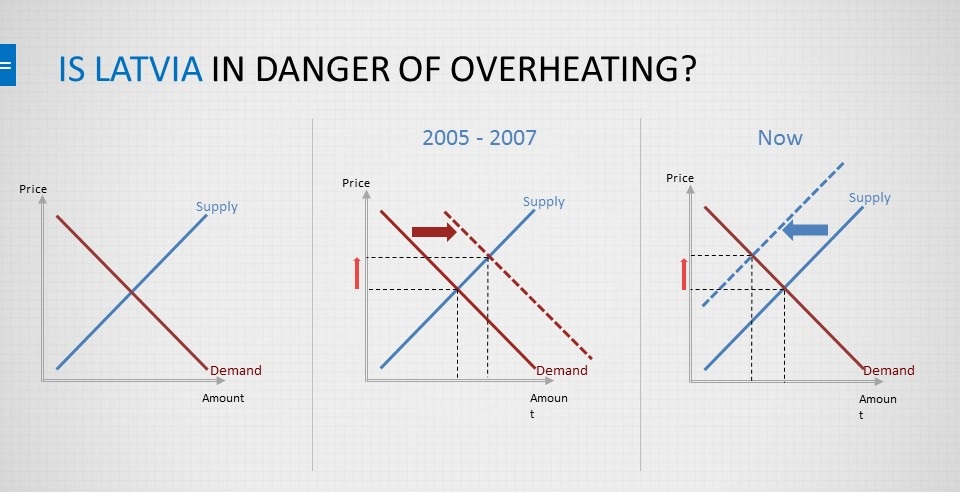 So the question is: Has the Latvian economy really overheated and are we facing a crisis? The answer is no. And yet the Latvian economy has begun to "heat".
The situation can be metaphorically likened to high body temperature. It is a sign that something is not as it should be. Therefore it is necessary to find out what the factors are which determine the rising temperature. Could it be some serious malady? What medication should we use? In other words, what is the diagnosis? What is it that is heating the economy? Is it loans, investments, exports or other factors?
It is our opinion that the situation is radically different from the one in the "years of plenty". There are several indications of this difference: inflation and core inflation are at a controlled level, i.e. under 3%;
lending growth is still weak at about 2%;
the current account deficit is small;
growth is fluctuating in the 4-5% range in contrast to the 10-12% in the pre-crisis period. The acceleration of growth is supported by trends in some branches. To a great extent it has to do with the uptake of the European Union funds and growth in such industries as manufacturing, the energy sector and, lately, construction.
Yet there are also signs that point to very serious problems, which can have a serious impact on the Latvian economic growth potential in the future. We could get mired in a prolonged period of slow growth and, as a result, lose any hope of achieving the long-cherished dream of prosperity and having additional money for the sectors of such crucial importance to us, i.e. education and medicine.
Carrying on with the metaphoric comparison with high fever: even if we have made sure that this is no mortal disease as it was in 2009, if we do not take the diagnosis into account, we can face consequences for the rest of our lives.
Now to the main reasons for heating, which are different from 2005-2007 when, as a
result of growing external financing, demand kept going up and, with it, prices rose. Currently, instead of demand going up, supply is dropping. In our view, it has to do with dropping supply in the labour market, to wit:
employment is at its historical high;
unemployment has dropped under its natural rate;
enterprises are increasingly complaining about a lack of workforce;;
as a result, a fast increase in salaries is observed, which will be augmented by the raising of minimum wage planned for next year;
productivity lags behind the rising compensation. It results in, I would say, a competition gap of the kind that opened in 2005 – 2007, so, for a long time, wage growth in Latvia outpaced productivity. A similar situation is developing now (actually, it was already arising in 2015 – 2016). The hope that wages could grow more in proportion to productivity remains unfulfilled.
in other words – the Latvian economy and Latvian entrepreneurs are currently losing their competitiveness!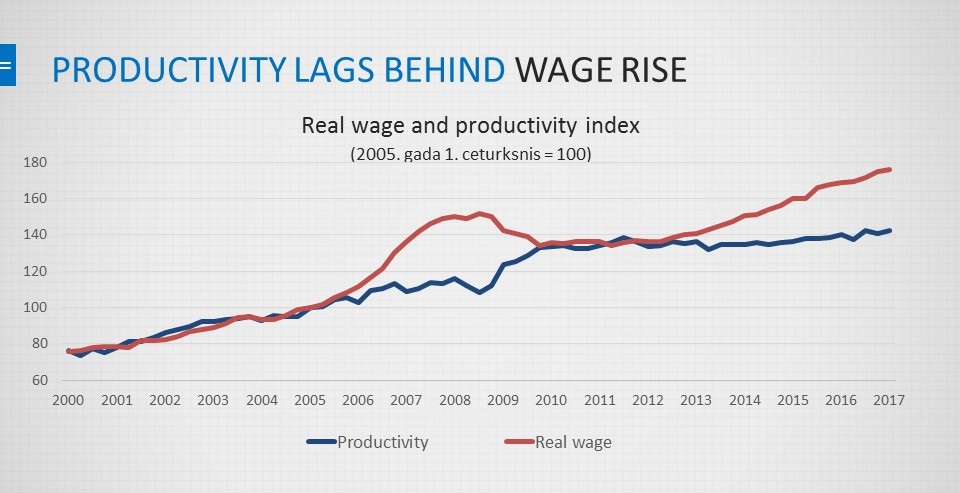 I can only agree with the economists who say that, since the crisis period, we have yet to manage to carry out structural reforms crucially important for the reinforcement of Latvian economic competitiveness and growth potential. Thus we have reached a situation where we have to talk about signs of overheating at 4% growth.
In our assessment, the overheating that we experienced in 2005-2007 was related to joining the EU and the inflows of substantial financing, which led to an explosive increase in demand. Now the consequences of the crisis have been overcome, but signs of overheating related to supply-side factors are appearing. Entrepreneurs lack available workforce and they are forced to reduce their cost-efficiency, which means that, in the future, the amount of investment will shrink. It cannot last for long, however, for it weakens competitiveness. That can have a detrimental effect on the opportunities of Latvian entrepreneurs to work successfully in the export markets as well as on growth. It is possible that businesses have to revise their production: close it in Latvia and move it to places with cheaper and more available workforce. Meanwhile in the state sector new vacancies appear every day.
What to do?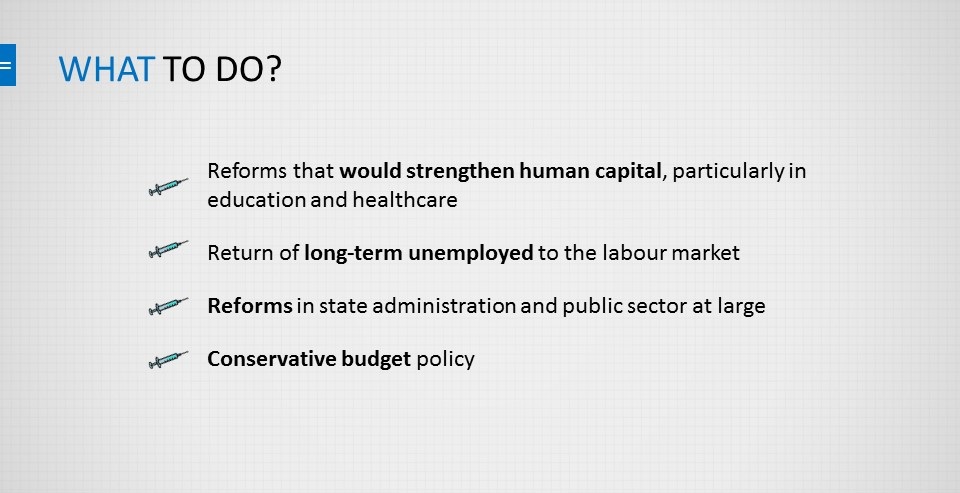 Four things. First, we of course need to carry out the initiated structural reforms that would ensure a more effective use of the existing human capital both in the health and education sectors. Second, we should ensure that the long-term unemployed return to the labour market. Third, we should review the number of those employed in state administration. And fourth, a conservative budget policy is a must.
Let us consider all these one by one.
Let me once again return to the metaphor of high body temperature. When one is coughing it is important to figure out what disease causes it. Is it a cold or a pneumonia with potentially lethal outcome or perhaps something that would turn into a chronic, incurable asthma? Treatment methods would differ depending on the case. It is the same with overheating: currently, it is not related to demand-side factors and therefore we should certainly desist from impeding lending growth and think about the situation in the labour market instead. That is why I said that it is important to return to the labour market as many people as possible of those who have abandoned it and joined the long-term unemployed. The number of sick leaves is also on the rise.
Given the situation in the labour market, Latvia cannot afford an expansive fiscal policy. When the economy is growing this fast, fiscal policy should be at least balanced if not with a budget surplus!
We should keep in mind that European funds are not there forever; a couple of years hence, the regular planning period will come to an end. We should have clear plans in store for when this money is no longer available.
Worrisome is the government's plan to not develop a fiscal reserve for 2019.
Thus, considering the development of the Latvian economy in the future, we have come up with several structural reform initiatives in the areas of health care and education. Last year, we launched a discussion on reforms in education. It is our intention to continue with it, so we would like to invite you all to the National Library where, on 27 September, we will discuss together with education specialists, local government representatives and policy makers how to improve the Latvian education system and provide Latvia with smart and talented people!
Thank you for your attention!