Latvijas Banka has published its latest December 2021 macroeconomic forecasts for Latvia. Key points:
Latvia's GDP growth projections for 2021 and 2022 have been revised downwards to 4.6% and 4.2% respectively (from 5.3% and 5.1% in September 2021 forecasts), reflecting the economic fallout from the pandemic.
The projected GDP growth for 2023 remains broadly unchanged at 4.0%.
Latvia's inflation projections for 2021 and 2022 have been revised upwards to 3.2% and 6.1% respectively (from 2.8% and 4.0% in September 2021 forecasts) in light of the soaring global energy prices.
An upward revision in inflation projections for 2023 to 2.9% was determined by an increase in production costs.

Global and European economic growth is decelerating
Near-term economic growth is dampened by new surges in Covid-19 cases, particularly in Europe, new variants of the virus and tightening of the measures to limit virus spread. Shortages of materials, equipment and labour as well as the progressively rising costs, particularly those of energy, also have a downward effect on economic growth.
Central banks, including the European Central Bank (ECB) continue with the implementation of accommodative monetary policies. Although inflation has risen to levels not seen for a long time, it is largely driven by higher energy prices and other transitory factors. Therefore, an abrupt withdrawal of the monetary policy support in the circumstances of persistent uncertainty associated with the pandemic should be avoided.
The current circumstances require targeted fiscal policy support measures.
Downward effects on Latvia's economic growth are strengthening
Latvia's economic growth has decelerated towards the turn of the year on account of deteriorating epidemiological situation, as already projected in our September forecasts. Additional factors, however, were the imposed lockdown and tightened restrictions.
Although private consumption recovered in the third quarter, an increase in traveller spending abroad is observed, with no contribution to Latvia's economic growth. Prices on building materials and equipment have risen to a larger extent than estimated in investment plans, thus dampening the investment activity. Restrictions on the provision of services put a continued downward pressure on exports.
The economic effects of the pandemic will continue to be felt also at the beginning of next year. Considering the tight labour market, an additional downside factor will be the requirement to have a Covid-19 certificate for on-site workers, as well as deterioration of the epidemiological situation and restrictions in Europe.
Factors limiting growth are expected to dissipate next year
Global factors like the soaring energy prices and supply disruptions will fade significantly during the second half of 2022. Moreover, the material shortages faced by Latvian businesses are not as acute as in other European countries.
Investment will act as a prominent growth facilitating factor, supported by financing from NextGenerationEU and the implementation of the Rail Baltica construction project. Even though higher prices on building materials may decelerate investment and corporate lending remains weak, the shortage of qualified labour speeds up automation.
Diminishing of the uncertainty can be expected to release of the pandemic savings and accelerate private consumption. Export development will be supported by the recovering external demand, assuming that Latvia's global export market shares do not decrease on account of cost competitiveness.
New inflation surges are fuelled by the global energy prices
The soaring energy prices have resulted in an upward revision of the inflation projections, and the spike will be higher than previously expected. At the same time, the price hike is broad-based and it is affected by:
the pass-through of energy prices to other goods and services prices;
decisions to increase the administered prices (for example, on heating and water supply in individual cities);
the rising global food prices;
the effects of the global supply chain disruptions on the prices of industrial goods;
the increase of wage expenditure in production costs.
Underlying inflation is expected to increase, largely on account of the rising wages. Nevertheless, with the global energy prices decreasing and supply chain bottlenecks clearing, headline inflation will moderate in the course of next year.
The near-term risks to the inflation projections, however, remain tilted to the upside. This is determined by the tight domestic labour market and an anticipated later decline in global prices on raw materials.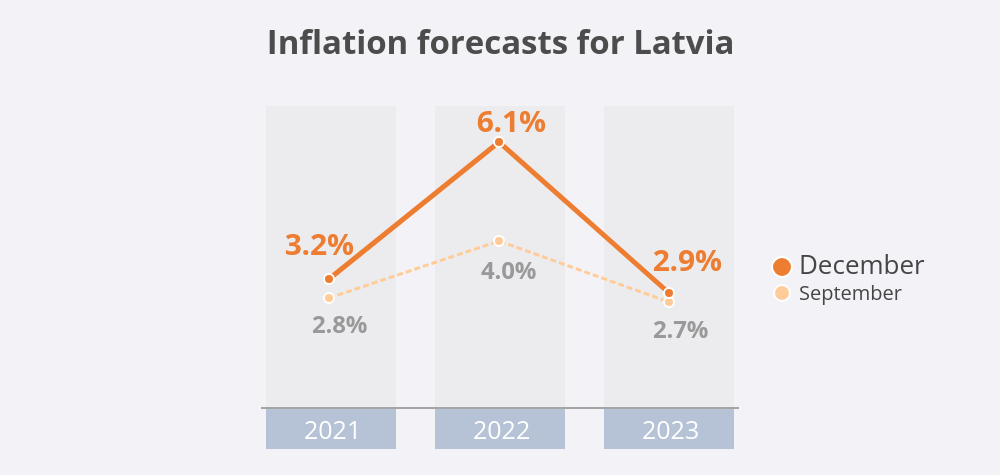 Labour shortages will increase
Unemployment growth is limited by the ability to adapt to working remotely and government support for the period of imposed restrictions. Nevertheless, unemployment is bound to increase on account of those refusing to vaccinate, as there is a requirement to have a valid Covid-19 certificate for on-site workers.
The decreasing availability of labour force strengthens the pressure on wages. The wage growth projections for 2023 have been revised upwards to reflect labour shortages and the planned reform of the public administration remuneration system. In this context, it must be noted that the pandemic highlighted significant differences in income dynamics between lower and higher remunerated employee groups as well as the issues of income inequality and the need for social assistance.
Government support during the pandemic increases the deficit
The general government deficit is rising, as the economic growth is decelerating and the government is increasing its spending to limit the fallout from Covid-19. In 2021, this spending has grown more than 2.5 times as compared to 2020.
The end of the suspension of the European Union fiscal rules as of 2023 provides for getting back on the path of reducing the government deficit. The projections for the reduction of the government deficit prepared by Latvijas Banka are based solely on the currently adopted government decisions.
Macroeconomic indicators: Latvijas Banka projections
2021
2022
2023
2024
Economic activity (annual percentage changes; at constant prices; seasonally adjusted data)

GDP

4.6

4.2

4.0

3.3

Private consumption

5.7

8.6

5.4

4.3

Government consumption

7.9

3.9

0.5

0.7

Investment

4.3

7.0

4.1

3.6

Exports

5.4

4.5

5.0

3.2

Imports

12.6

2.7

3.3

3.4

HICP inflation (annual percentage changes)

Inflation

3.2

6.1

2.9

2.1

Underlying inflation (excluding food and energy)

2.0

3.1

2.6

2.3

Labour market

Unemployment (% of the economically active population; seasonally adjusted data)

7.8

7.5

6.8

6.6

Nominal gross wage (annual percentage changes)

8.9

7.5

6.1

5.9

External sector

Current account balance (% of GDP)

–2.8

–1.8

–0.9

–1.1

Government finances (% of GDP)

General government debt

47.1

49.7

47.1

44.6

Budget surplus/deficit

–8.2

–4.1

–1.3

–0.4
The cut-off date for the data used in the forecasts is 1 December 2021, and 25 November for some technical assumptions.
More detailed information about the latest forecasts is available in macroeconomic forecasts section of Latvijas Banka's website macroeconomics.lv.