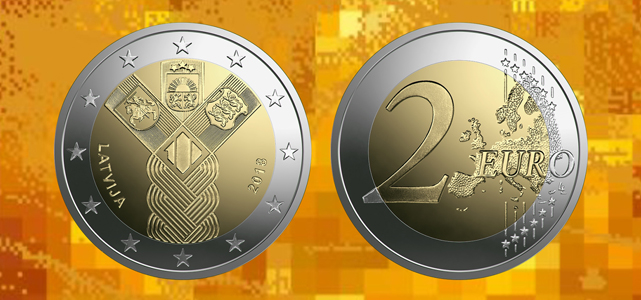 The work by Lithuanian designer Justas Petrulis, i.e. a symbolic plait in which the fates of the three Baltic sisters intertwine, has been turned into a coin. This design received the most votes in the public survey in which six coin designs were offered for a vote (per two from Latvia, Lithuania and Estonia).
The European side of these euro commemorative coins bearing the nominal value (artist Luc Luycx) is the same as that of other 2 euro circulation coins, including material and size.
The national side of the commemorative coins issued by Latvijas Banka features the inscription "LATVIJA" ("LIETUVA" and "EESTI" on the coins issued by Lietuvos bankas and Eesti Pank respectively), and the edge of the coin, like all other 2 euro circulation coins of the Republic of Latvia, features the inscription "DIEVS * SVĒTĪ * LATVIJU *". The new 2 euro coins have been minted by UAB Lietuvos monetų kalykla (Lithuania).
The new commemorative coins will be circulated in the same way as any other circulation money, reaching commercial and other enterprises as well as general public through banks. As of Wednesday, 31 January, the coin will be available for exchange at the Cashier's Offices of Latvijas Banka in Riga and Liepāja. The mintage of the coin is 0.5 million pieces. Experience of Latvijas Banka shows that this quantity is sufficient to allow all interested persons to exchange the coin over a period of at least several weeks. 5 000 coins of Brilliant Uncirculated quality in a special souvenir packing will also be on sale; its price at Latvijas Banka Cashier's Offices is 7.30 euro. 7 000 circulation coin sets will also be available; the price of the coin set at Latvijas Banka Cashier's Offices is 25.00 euro.
Coins for exchange and in rolls will be available only at Latvijas Banka Cashier's Offices. Coins in a souvenir packing and circulation coin sets will be available for purchase online via Latvijas Banka's collector coin and other numismatic product site at e-monetas.lv offering a wide range of collector coins and other numismatic products of Latvijas Banka. The site e-monetas.lv also offers numismatic products to legal persons in Latvia.
In close cooperation with JSC Swedbank, the possibility to pay by VISA, VISA Electron, MasterCard and Maestro payment cards as well as via the internet banks of JSC Swedbank, JSC Citadele banka and JSC SEB banka has been ensured. All purchased coins and numismatic products can be collected at Latvijas Banka Cashier's Offices in Riga and Liepāja (for their addresses, see https://www.bank.lv/par-mums/klientu-kase) as well as by using express delivery services of SJSC Latvijas Pasts, within the territory of Latvia. It is most likely to suit the needs of customers, e.g. from more distant regions, who are busy on the initial days of launching a new coin or due to other reasons cannot visit the Cashier's Offices of Latvijas Banka. Numismatic products purchased at e-monetas.lv are also delivered to foreign countries, e.g. most EU countries, the US, Canada, Australia, New Zealand etc.
These products will also be available at such traditional points of sale as numismatic shops, book stores and souvenir and jewellery shops (https://monetas.bank.lv/images/stories/pielikumi/nauda/Monetu-tirdzniecibas-vietas.pdf).