31.10.2022
Work at the re-established Latvijas Banka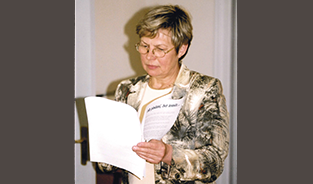 Antonija Sileniece, Chief Accountant of Latvijas Banka, Head of the Accounting Department (1991–2005) and Board Member (1992–2001) shares her memories.
Education and traineeship
In the mid-1960s, I graduated from the Technical School of Accountancy and Crediting of the State Bank (later it was renamed the Latvian Banking College, but today its name is the BA School of Business and Finance) with a degree in cash circulation and credit, becoming a credit inspector. As part of my traineeship, I was assigned to the Credit Division of the City Department of the State Bank, but I spent only some days in the accountancy office to have a general insight into customers' (trading companies, plants, etc.) documents and account statements.
After leaving the Technical School, my first appointment was in the region, (i.e. outside Riga), but then I was unexpectedly invited to the City Department of the State Bank. This is how I ended up in the Accounting Division rather than in the Credit Division. My task was to accept documents from customers and process them. I had to check the sufficiency of funds on the account, whether a particular payment could be made, whether it fell within the limits set. For example, we checked customers' salary statements and whether customers were allowed to withdraw a certain amount of salaries. After a year, I was offered to start working in the Credit Division, but I didn't accept the offer.
After some time, I was offered a position in the Audit Department of the USSR State Bank Office. I was lucky in working together with a very professional auditor from the very beginning. She started every morning with testing my knowledge of the instructions: what kind of documents I had to request and how to check them. I benefited a lot from that. And then, through distance learning, I graduated from the Faculty of Economics of the University of Latvia as an economist.
Job offer at Latvijas Banka undergoing re-establishment
Einars Repše, Governor of Latvijas Banka that was undergoing re-establishment, invited me for an interview. I had decided to refuse the offer of employment as I had no experience of western central banking activities. I knew what establishing the Accounting and Settlements Department from scratch would entail. However, during our conversation, I could not say no and agreed to work at Latvijas Banka. I never change my mind if I have made a promise. An interesting and arduous work requiring long working hours started.
It can be said that we, accountants, were most exposed to the systemic transition, which can be compared with replacing a Soviet time car for a western one, particularly in settlement systems. The system of accounts was introduced instead of the old balance system, accounts had to be opened. The Soviet settlement system had worked in so-called avizo notification regime involving payment requests or orders, and it was closed on 1 July 1992.
Latvijas Banka concluded agreements with banks of the former Soviet republics on the balances remaining in the old system, i.e. which country was indebted to which. Myself and the Bank's Council Member Valentīna Kolotova travelled to the respective countries to conclude agreements on behalf of Latvijas Banka. It was often a whole event which I will touch briefly upon.
The Governor of the central bank in Moscow invited us, chief accountants of the central banks of the former Soviet republics, to a meeting in Moscow on 29 June 1992 and announced: "We terminate operation of the current settlement system as of 1 July."
I'd like to mention a couple of funny incidents from that time.
I was looking for a phone nearby the meeting room then (there were no mobile phones at that time) and called Natālija Popova, Head of our Settlements Division, to warn her: "Make sure that all payment documents are prepared and sent on 30 June!" And the Governor of the Moscow Bank came up to me smiling and quite friendly. He and most of his colleagues found it difficult to pronounce my name "Antonija" and I was called Antonio. "Antonio, čto ti tam govoriš?" Sounding like that: "Antonio, who have you told everything now?"
At the time of the conclusion of agreements with central banks, we arrived at a central bank in the south at the appointed time, but a staff member apologised and said that the Governor had flown down to the region. Myself and Valentīna Kolotova, as usual, decided not to give up. All right, we'll wait. We were waiting, it was already late at night when they surrendered; the Governor just turned up. But no, we can't approve anything as all documents have burnt. And on the following day the Minister for Finance was telling the same story: "But if you can send us all printouts and documents within two weeks, we will approve them." I assume, they considered it was not realistic. But I knew that my colleague Natālija Popova, irrespective of the time-consuming work, will prepare the necessary documents. I notified them that Latvijas Banka was sending the documents, and they were astonished.
We dealt with many different realities.
Foreign Exchange Operations Department
I'd also like to mention accounting of foreign exchange operations at Latvijas Banka that was created from scratch. Governor of Latvijas Banka Einars Repše gave me documents on account balances in foreign currencies, gold reserves – how much and where they were located. Vita Pilsuma, the Bank's Council Member, lent me a helping hand with recording these documents and their presentation in the balance sheet. I entrusted the full management of accounting foreign exchange transactions to my deputy Maija Kurpniece who joined Latvijas Banka in 1992, in its early days.
Tandem of Repše and Sileniece
You can work with the full energy and a lot if you know that you will have support. I received such support from Einars Repše. He was knowledgeable, he came up with ideas on changes, explained his ideas and I returned to my department to implement them. In cases when I submitted a document to Einars Repše in the evening and he said the next morning: "I agree!", I was sure everything was correct. When discussing this period of time after several years, he told me that he had read all documents thoroughly, nothing would have been achieved without that. I bow my head low to Einars Repše who is a highly intelligent and smart person.
When I was a Board Member, I also contacted Ilmārs Rimšēvičs, who was Chairman of the Board, every day. He was considerate, smart, a good diplomat. I received strong support from the Bank's Council Members, particularly Valentīna Kolotova and Vita Pilsuma.
*
When we met Antonija Sileniece in the spring of the year celebrating Latvijas Banka's anniversary, our conversation was more extensive, embracing an impressive string of life details and illustrating elements of the fabric of those times when the Latvian state and its central bank went through the re-establishment stage in the 1990s. An insight into the early working life of a long-time accountant of the Bank described the centralised system for distribution of financial resources in the Soviet planned economy that was doomed to failure.
As requested by Antonija Sileniece, the interview has been shortened, focusing on the most relevant and valuable, in her opinion, aspects.