25.01.2022
Video address by Mārtiņš Kazāks, Governor of Latvijas Banka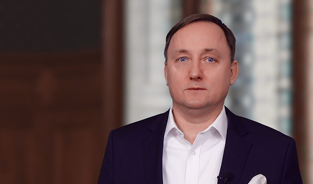 Over one hundred years ago, we founded our own country.
Did it seem realistic? No.
But from the very beginning, a small group of people believed it was possible and went for it. And so Latvia was established.
Having our own currency also seemed like mission impossible.
And despite the post-war destruction and chaos, determined and persistent people believed this was possible and set to work.
And so our currency – the lats – and Latvijas Banka were created.
Believing in our future and bringing it to life is in our blood and our roots. It's the only way to make big dreams come true.
The bigger the dream, the more people will say it can't be done. But there's only one way to find out. By doing it.
This is Latvijas Banka's centenary – our 100-year anniversary.
It's a year that we'll celebrate by doing what has by now become our natural state – of acting and doing.
And on our anniversary, instead of expecting gifts, we'll be giving them.

In addition to economic analysis, smooth functioning of the settlement system, cash circulation and many other things we do each day, we'll give a look into the past through historical research, regional exhibitions, and an exhibit at the National Museum of Art.
We'll open our doors, starting from the Visitors' Month, to give the public a look into the bank's day-to-day activities. We'll bring them inside, we'll talk more about financial literacy, we'll go out into the world and speak at the LAMPA conversation festival, and of course, launch celebratory coins for the bank's centenary. We'll have an annual conference with the participation of world-class leaders.
But this year's biggest task will be merging with the Financial and Capital Market Commission. Latvijas Banka will become even stronger.
But the dreams don't stop here. What are our aspirations for Latvijas Banka for the next hundred years? One thing is certain – we'll experience many changes. But I'm sure that the foundations of the bank will remain the same – to be reliable, smart, and independent.
To serve the common good.
Let's celebrate this year together. Let's celebrate through action. Action driven by our hearts, and made possible with our minds.