31.07.2013
First Latvian euro coins are minted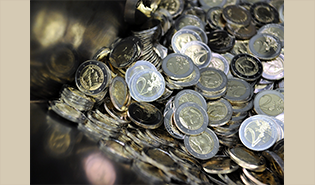 On 31 July 2013, Governor of Latvijas Banka Ilmārs Rimšēvičs started the minting equipment at the mint Staatliche Münzen Baden-Württemberg in Stuttgart, Germany, thereby launching the minting of Latvian euro coins. required for the euro changeover and the first year of circulation. The coins were minted in Stuttgart and Karlsruhe.
The common side of the coins shows the denomination and is the same in all euro-area countries, whereas the national side differs from country to country. 1 and 2 euro coins and 1, 2, 5, 10, 20 and 50 cent coins are in circulation in the euro area. The design of Latvian euro coins was created based on the proposal by Ilze Kalniņa, resident of Jēkabpils, who was awarded the first prize in the National Competition of Ideas in 2004. The euro features a folk-maid once portrayed on the 5 lats coin, the pride of Latvia's coin design, whereas the cents depict either the large or the small coat of arms of Latvia.
As Latvia joined the euro area, Latvijas Banka ensured the smooth changeover to the euro as legal tender both in cash and non-cash transactions.