04.05.1992
Introduction of Latvian rouble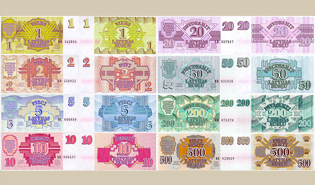 In order to exercise Latvia's economic independence, facilitate Latvia's transition to market economy and contain the growing inflation, the basis for the national currency system had to be established already before the re-introduction of the lats.
On 4 May 1992, the Monetary Reform Committee of the Republic of Latvia comprising Ivars Godmanis, Chairman of the Council of Ministers, Einars Repše, Governor of Latvijas Banka, and Ojārs Kehris, Chairman of the Economic Commission of the Supreme Council, adopted Resolution No. 1 "On the Introduction of the Latvian Ruble". On 7 May 1992, Latvijas Banka introduced the provisional Latvian ruble in the territory of the Republic of Latvia in the following denominations: 1, 5, 20, 50, 200 and 500 rubles. In addition, 2 and 10 Latvian ruble banknotes were issued in September and November respectively. The Latvian ruble was put into circulation in parallel with the existing banknotes of the State Bank of the USSR and the Russian Federation at the exchange rate of 1 : 1. On 20 July 1992, the Latvian ruble became the single legal tender in the territory of the Republic of Latvia.
The banknotes of the Latvian ruble were designed by artist Kirils Šmeļkovs.