12.03.1937
Concept for the development of the Victory Square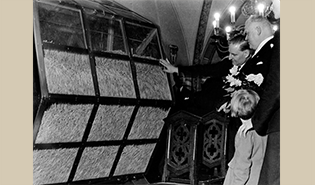 The idea of creating a national architectural style gained ground after 15 May 1934 to strengthen the ideology of a strong leadership and Latvianness. One example clearly demonstrating the ideology-based approach in architecture is the creation of the 15 May Square next to the Riga Cathedral. The Victory Square to be developed in Pārdaugava with a 60 m high tower and a sanctuary commemorating the national leaders was never finished due to the Soviet occupation.
Latvijas Banka participated in providing the financing for this monumental construction project in Pārdaugava which was intended as a venue for parades, sport events, festivals for farmers, workers and young people, the Latvian Song Festival and other festive events. Ādolfs Klīve, Chairman of the Council of Latvijas Banka, participated in the Victory Square Development Committee and its Bureau and was the Chairman of the Lottery Commission. The Development Committee obtained the first financing by announcing a national collection of donations.
Collection of allegedly voluntary donations which were later transferred at the disposal of Kārlis Ulmanis, the head of the authoritarian government, was a widely used fund-raising mechanism. At a special audience on 15 May 1937 which was covered by the press, Latvijas Banka transferred donations worth 0.5 million lats to Kārlis Ulmanis to be used at his own discretion.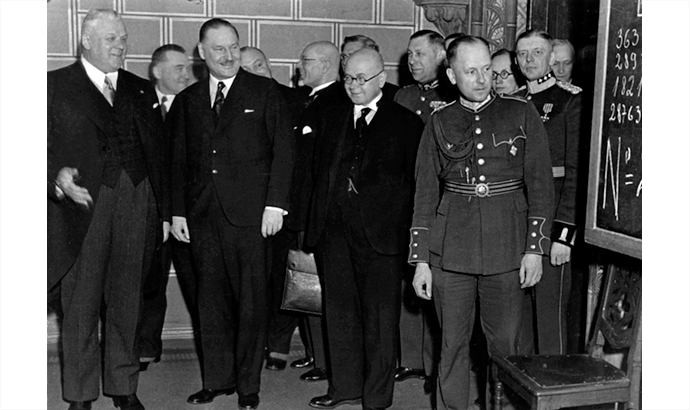 The Victory Square Construction Committee's lottery ticket sale started on 16 June 1937. They were sold in all post offices and branches of Latvijas Banka. Overall, there were 265 thousand lottery tickets amounting to 2.6 million lats, the total value of winnings – 550 thousand lats. The lottery raffle started on 26 January 1938 and lasted for three weeks. The main win (100 thousand lats) went to the Irlava-Vecsāti Dairy Society.