08.10.1931
Discontinuation of a free exchange of foreign currencies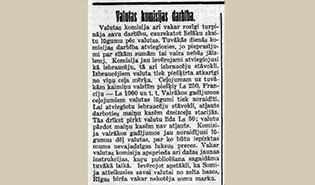 The Government "Regulation on Foreign Exchange Operations" cancelled Latvijas Banka's obligation to exchange banknotes for gold and discontinued their free exchange for foreign currency.
The country's gold reserves, which were previously used as backing for the issued banknotes, effectively became the foreign currency reserves that could be sold in exceptional cases.
Foreign currency trading was declared to be the State monopoly, and the related responsibilities were transferred to Latvijas Banka. This was implemented by the Currency Commission established under the auspices of the Ministry of Finance. The Commission was chaired by Vilis Bandrevičs, Deputy Chief Director of Latvijas Banka, and from 23 March 1932, by Director Staņislavs Kambala; meanwhile, the Commission's work was managed by Jānis Bokalders, authorised representative of Latvijas Banka.
The Commission took care that the lats exchange rate was stable in order to ensure sufficient amount of currency for economic needs and to prevent the erosion of Latvijas Banka's reserves. The Commission meetings were chaired by a representative of Latvijas Banka, and the Council of Latvijas Banka had veto rights on the Currency Commission's decisions.
Procedural modifications were introduced by the Government "Law on Currencies and Foreign Trade" of 8 June 1934, empowering Latvijas Banka to authorise individual credit institutions to buy foreign currencies and changing the composition of the Currency Commission. The Commission ceased to exist in 1938, and its rights and obligations were transferred to the Foreign Trade Department of the Ministry of Finance on 1 October of that year.