22.09.1922
The Statute of Latvijas Banka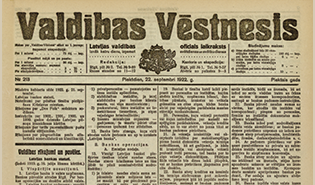 On 22 September 1922, the Cabinet of Ministers promulgated the Statute of Latvijas Banka as a matter of urgency.
Pursuant to the Statute, Latvijas Banka was founded as an autonomous public enterprise with a state-allotted share capital and the right to issue national currency.
The variety of functions formulated in Paragraph 1 of the Statute such as the regulation of cash circulation in the country, the facilitation of trade, industry and agriculture by granting short-term loans, the simplification of cash payments and the execution of the Treasury operations, suggests that Aleksandrs Kārkliņš, author of the draft Statute, used the Statute of the Russian State Bank as a model.