20.03.1920
Decree on the Establishment of the State Gold Fund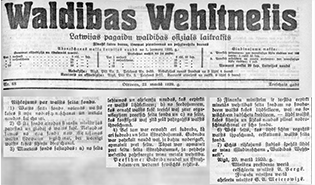 Decree on the Establishment of the State Gold Fund for preventing the depreciation of the Latvian ruble (with effect from 23 March 1920). Signed by Minister of the Interior Arveds Bergs on behalf of the Prime Minister and by Foreign Minister Zigfrīds Anna Meierovics on behalf of the Minister of Finance.
On 1 April 1921, the State Gold Fund comprised the following valuables:
4 million golden rubles of the Tsarist Russia;
157.4 kg of pure gold;
5 040 kg of pure silver;
128 carats of diamonds.
The gold purchased by the Ministry of Finance was also transferred to the State Gold Fund. The gold was melted, recast into bullions and handed over to Latvijas Banka which, in turn, shipped them to the Bank of England for safekeeping. This is how Latvia's first gold reserves were created.
In early 1939, Latvia's gold was deposited with the banks of four countries: Bank of England and Barclays Bank in London (value: 68 273 950 lats), the Federal Reserve Bank of New York (value: 4 428 062 lats), Banque de France (value: 5 706 755 lats) and Latvijas Banka vault (value: 9 095 655 lats).