Augusts Reinbergs (1860-1908)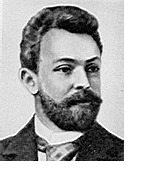 Architect Augusts Reinbergs (1860-1908) was born in Riga. He finished the Riga City High School in 1877, and graduated with honors from the Riga Polytechnic (since 1896 - Riga Polytechnical Institute) in 1881. For two years he was an assistant to architect Roberts Pflugs (1832-1885). In 1883, A. Reinbergs received a degree of the Artist of the 3rd Category at the Academy of Arts of St. Petersburg (the Artist of the 2nd Category in 1894). A. Reinbergs spent two years travelling for study purposes, and visited Austria, Italy, France and Germany. From 1885 to 1886, he worked as an assistant at the Riga Polytechnic; concurrently, he continued his studies with Professor J. Kohs, Dean of the Faculty of Architecture. For two years A. Reinbergs worked at the building site of Riga-Pleskava railway, and from 1888 to 1889, he was an assistant at the Riga Polytechnic and a teacher of arts at the Riga High School. A. Reinbergs was among those who in 1889 founded the Riga Association of Architects, he was also the first Chairman of the Association. From 1890 to 1899 he lived and worked in St. Petersburg. During this period A. Reinbergs took part in international architect congresses in Stockholm, München, London, etc. After wining the Competition of Designs of the 2nd Riga City Theatre (now the National Theatre; construction was completed in 1902), the architect returned to Riga and supervised construction of the theatre building. He again became Chairman of the Riga Association of Architects. In 1905, A. Reinbergs started to work as a professor at the Riga Polytechnical Institute, and was also elected to the Riga City Council.
The living house that the architect designed for himself (Skolas iela 3) is a perfect example of Riga Art Noveau Style. A. Reinbergs has also designed the building of the Credit Bank of Estonian Gentry in Tallinn, buildings of the Strenci Psychiatric Hospital and the estate of Baron Vulf in Taivola (Valga region, Latvia). Noteworthy is Fun City "Vecriga" (Old City) - an imitation of a medieval town - that was designed specially for the exhibition dedicated to the 700th anniversary of Riga in 1901 (it was placed in Kronvalds's Park). A. Reinbergs worked out the design of an outstanding building of the beginning of the 20th century - the building of the State Bank (now Bank of Latvia; K. Valdemara iela 2A).