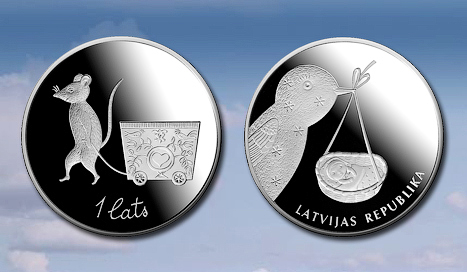 Bank of Latvia is issuing a new collector coin – the
Baby Coin
.
The author of the graphic design is Anita Paegle, while the plaster model has been created by Jānis Strupulis. The coin has been struck by
UAB Lietuvos monetų kalykla
in Lithuania.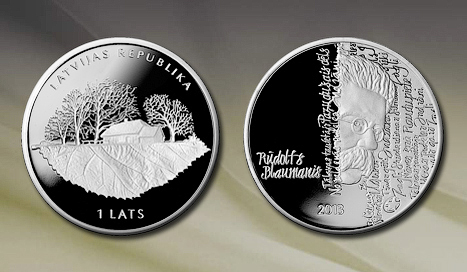 Bank of Latvia is putting into circulation a
collector coin dedicated to Rūdolfs Blaumanis
.
The coin has been designed by Aigars Ozoliņš and modelled by Ligita Franckeviča. It was struck by Regia Autonomǎ Monetǎria Statului (Romania) within the "European Silver Programme", a collector coin programme of the EU Member States.
Institutions Which Sell Collector Coins of the Bank of Latvia
A set of circulation coins Latvian Coinage in a specially-designed holder (dated 2004) and all collector coins issued by the Bank of Latvia and not yet sold out can be obtained at the Bank of Latvia (phone: +371 6702 2335, +371 6702 2434; fax: +371 6702 2103; e-mail coins@bank.lv). Collector coins are sold at the Bank's Cashier's Office in Riga and at the Bank's Branches in other cities of Latvia.
The collector coins of the programs Treasures of the World/Golden Apple Tree and European Heritage/Christmas Tree are distributed by World Coin Association (phone: +49441 408 6844 fax: +49441 408 6845, e-mail: stephanie.weichelt@mdm.de, post@world-coin.org).
The collector coins of the programs Hansa Cities, Latvia. Times and Values (series Time and Roots), and the collector coin National Library of Latvia are distributed by the Mint of Finland (Rahapaja OY, Suometsantie 1, Fin-01740 Vantaa, Finland, phone: +358 989 434 311, e-mail: pekka.karkinen@mint.fi).
Please contact the Bank of Latvia (coins@bank.lv) for purchase information of other collector coins.