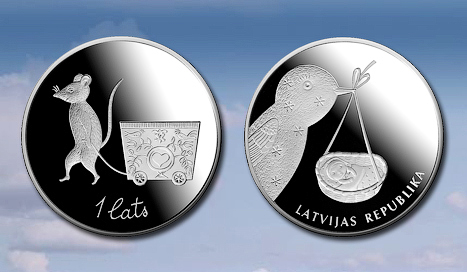 Bank of Latvia is issuing a new collector coin – the
Baby Coin
.
The author of the graphic design is Anita Paegle, while the plaster model has been created by Jānis Strupulis. The coin has been struck by
UAB Lietuvos monetų kalykla
in Lithuania.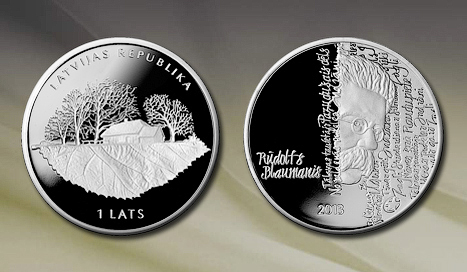 Bank of Latvia is putting into circulation a
collector coin dedicated to Rūdolfs Blaumanis
.
The coin has been designed by Aigars Ozoliņš and modelled by Ligita Franckeviča. It was struck by Regia Autonomǎ Monetǎria Statului (Romania) within the "European Silver Programme", a collector coin programme of the EU Member States.
Collector Coin Issuing Programme for 2013
1. A coin dedicated to Latvian writer R. Blaumanis.
2. A coin dedicated to the 20th anniversary of the restoration of the lats – the "Silver Salmon".
3. A coin dedicated to folk traditions or the "Baby Coin".
4. A coin dedicated to the 200th anniversary of Richard Wagner.
5. A coin dedicated to the 150th anniversary of Jāzeps Vītols.
6. A coin of innovative artistic or technical concept.
7. A coin issued within the international coin program The Smallest Gold Coins of the World.